How did the NEW Butte Premier Physical Therapy location come to be?
Back in July 2014 we broke ground on the new Butte Premier Physical Therapy building located at 125 Raley Boulevard in Chico. This building had been a goal of BPPT owner Leigh Langerwerf's for years. Operating out of a small space off Highway 32 had worked for several years, but with the business expanding and more wonderful patients coming to visit Leigh, Greg and Christian, we knew the building had to be built sooner than later.
Thus came the start of this new building. It didn't happen overnight but after months of planning, negotiating and debating over different parts of the project, we ended up at this location with the building we now call home. In July 2014 we broke ground on the building and started what would be a 6 month process to build our new home.
On July 21 the heaving lifting began with tractors digging out the pool and leveling the ground we would build on. As of August 1 we had a hole for the pool dug and soon after that we took a little tour of the building site with our family. Mel and Dan had a great time being boys and playing in the dirt.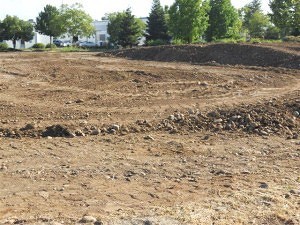 July 15, 2014 – Ground has been broken

Leigh's dad showing Mel how the tractors began working ground.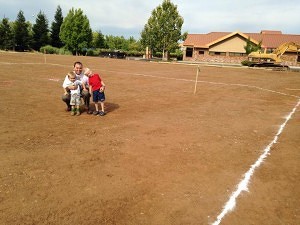 Leigh and his sons Mel and Dan on the land with the building outlines.


August 16, 2014 – Leigh with Cassi, Mel and Dan on site with the foundation trenches dug.


The site of the pool.


Mel and Dan playing in the dirt.
Stay tuned for more posts about how the home of BPPT came together!